A Level Exam Results Day 2023
We are exceptionally proud of our students and staff. Despite the challenges posed over the last few years they have responded with hard work, determination and a positivity. 15% of all grades achieved were A* and 38% were A* to A. An amazing 31 students achieved straight A & A* grades with 8 of these scholars achieving A* grades in all their A Levels. 84% of grades were at A*-C. Congratulations to all our students and we wish year 13 every success for the future!
The majority of our students have today secured a place at university - we have students off to Cambridge, UCL, Kings College, London School of Economics Warwick, Queen Mary's, Loughborough and Leeds to name but a few.
---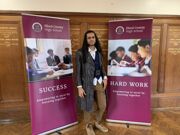 Isula achieved 3 A* grades and an A grade and has been accepted to study Civil Engineering at Imperial College London.
When asked how he was feeling about his results, Isula said. "I'm proud of my results – they are tangible proof of the last 2 years of hard work. I will be able to look back on this as a great achievement and a milestone."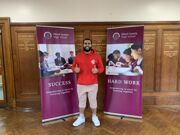 Aimal achieved 2 A* and 1 A grade. He plans to apply to Cambridge next year to study Engineering.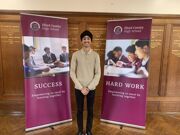 Gurjeevan achieved 4 A A Levels at grades A* to A. He advises other students to pay attention in class, ask lots of questions, use past papers for practise and never doubt your own abilities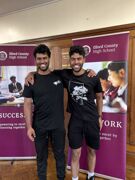 Nikhil and Neil achieved straight A*/A grades and will be studying Law and Medicine respectively.