School Uniform and Dress Code
Years 7 to 11:
All students must wear:-
A white shirt (long or short sleeved)
The school ties
The school blazer.
Grey or black trousers or a black Kilt.
Black sensible shoes - NOT trainers.
Pullover (optional) must, if worn, be grey and V-neck with no logos (Black may be worn by Years 10 and 11) Cardigans are not permitted.
Lanyard and ID Badge
Plain black coat
Years 7 to 11:
PE Kit
Black ICHS Shorts
Red/Black ICHS PE Polo Shirt
Thermal Red Base layer Top (optional)
Red Coolmax Socks
A predominantly white, clean pair of trainers

Years 12 and 13 (Sixth Form):
All Students must wear a suit, shirt with a collar and a sensible tie and have their lanyard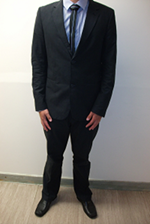 and ID badge visible around their neck. When the weather is colder a V neck jumper may
be worn under their suit jackets. Plain black coat.
Outer Clothing (all pupils)
When boys are travelling to and from school, it is expected that their appearance will be a credit to the school and to their homes. No particular colour or length of outer clothing is stipulated, the only requirement is that the boys must look respectable. No "hoodies" or denim jackets are permitted. Coats should not be worn inside the building.
Not permitted:
Jewellery (except small plain stud earing)
Hairstyles liable to draw attention
Training shoes (as normal wear) or heavy boots.
Facial hair (beards, moustaches, stubble) if worn by older boys should be neatly groomed.
Most items of school uniform can be purchased anywhere however the school tie and blazer need to be purchased from our specialist suppliers.